Theme: Harvest
Happy October! This week will see Hubby and my 9th wedding anniversary. We married during the most beautiful part of the year in New Hampshire - the trees red, orange and golden, blowing in the crisp autumn air.
We honeymooned in California, some of the time in the Napa Valley, during harvest time. Wineries bringing in their grapes to begin their major wine production for the year. As novices, at the time, in our ever increasing appreciation for wine, it really was the perfect time of year to visit the region and learn about the labor and love intensive wine making process.
This past weekend several of our friends attended Fall Harvest at some of our own NH wineries. Had we realized the timing, we would have loved to have gone as well.
Instead, we stayed home (mostly) and did some of our own harvesting...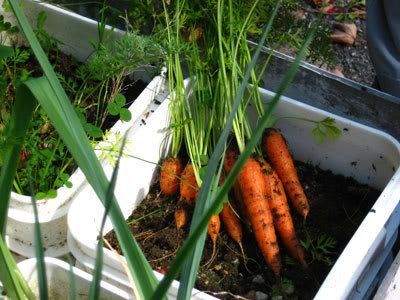 Yummy carrots, scallions and tomatoes. From our own yard. Really - you can't get any better than that.
Happy harvest time, everyone. Appreciate all that you have sown.