I got my latest
Parenting Magazine
a couple days ago, which Sweetie always likes to look at along with me. At one point she got to a page advertising a flashy toy that was obviously for a baby much younger than her.
I want that toy.... when I'm a baby again.
Are you going to be a baby again?!
Yes.
When?
Ummm..... after Father's Day.
-----------------------------------------------------------------------
We don't go often, but Sweetie loves the
Peanuts on the Floor Store
.
On a different, but related note, Sweetie also loves to piece together her map of the United States puzzle in which each state shows a picture of what it's most known for. Georgia, for instance, features a picture of peanuts on it. Thus, Sweetie knows that Georgia is the Peanuts on the Floor State.
Anyway, we were driving home the other day when Sweetie observed...
That's the Peanuts on the Floor Store. And, look! It has a sign! So.... the sign says Georgia.
I'm impressed with your deductive reasoning, Sweetie. But, no....
--------------------------------------------------------------------
I put Sweetie to bed last night, with our usual routine of a story before lights out. Just as I was finishing the story, Sweetie looked up at her ceiling (lovingly handcrafted by her Daddy, complete with knotty beadboard placed on an angle and trimmed with bright white crown moulding). Sweetie loves her ceiling, as she loves to see different images in the wood grain.
Last night was no different.
Mom! Look! It's a porcupine getting ready to play golf!

Huh? What? Where do you see that?
Right there! See? And then he's going to go across to other side
(of her ceiling)
and there's the golf hole!
Uhhhhh. Okay, then. Whatever you say, Sweetie.
Here's the picture of the golfing porcupine.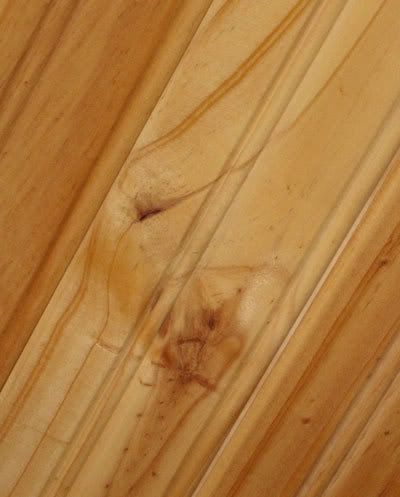 I'd point out to you exactly where the sporty little critter is, but honestly... I have no idea. I just don't see it. Do you?
I don't know, but you gotta admit - she's got an active imagination for sure!