Theme: Cooperation
Aaaannnndddd
.... she's back!
Sorry about that. We've been away for a mini vacation. But now we're home. Exhausted. But home.
How appropriate it is that
Cooperation
is this week's
MSO
theme. Because Sweetie was oh so cooperative during the majority of our trip to and from
Chocolate Town
. Really! I'm not even being a little bit sarcastic. She honestly was, by and large, just
great
! (of course she was - she's Sweetie!)
Nine hours in the car going to Hershey. Seven and a half hours coming back (40 less miles cuz we didn't miss any signage - as we did on the way down - sending us on a detour through the PA cornfields and back roads). And Sweetie hardly peeped at all. She was the epitome of cooperation and loveliness.
In fact, one time we complimented her - about half way home - telling her how proud we were of her behaving so well during the long car ride. And
that
sent her off into a mini whine-fest about how long it was taking. But even this was resolved with a little rest stop action before we all (kinda/sorta) happily hopped back in the car to cover many more miles to go.
Of course, give a girl a dish towel, a couple friends, an activity book, and - most importantly on a sweltering hot late August afternoon in a car with no A/C - a nice warm blanket to cover up in (
It's not a blanket! It's my friend Water Bottle's house.
she tells us), and I suppose anyone can see how easy it is to get through the long haul home.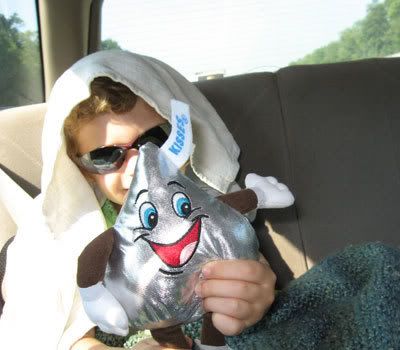 I'm also duly impressed with Sweetie's cooperativeness during our stay in Hershey, as Hubby and I would often tell her one thing, and then decide for ourselves that we were in fact going to do another.
Sweetie, let's leave the park now, go back to our hotel, go swim in the pool, and then out to dinner.
Okay!
But, as our whim changed, so did the plan - dinner at the park, back to the hotel, out for dessert and drinks, and no pool at all.
No matter - Sweetie went with the flow just as smooth as could be.
What a good Sweetie we have. We all had a great, fun trip. Our first big vacation as a family, in fact. And it all went off just fine.
A little cooperation sure does go a long way.
-------------------------
Lots more pictures and stories of our trip to come in the next day or so. Stay tuned!