So, what to say, what to say? I feel like I could write several posts about our trip. One just about the traveling. One about the amusement park. Another about the water park. One about the hotel and staff. Something about the food. One about Milton Hershey and his company in general. Of course a huge ode to Hubby for his
supreme awesomeness
(what with all the driving, lugging, and putting up with 2 tired girls and all). Etc., etc., etc... All, of course, with plenty of pictures.
Alas, if I were to do all of that you'd all be in for one loooonnnngggg post. The internet version of the dreaded vacation slide show presentation.
With that in mind, I'll do my best to sum it all up as efficiently, and as interestingly, as possible. (still with a ton 'o pictures, though. Sorry).
As I mentioned in
my last post
, our car trip was really pretty good. It helped that, in addition to the towel, activity books, and blanket, we also had these things to keep us all entertained: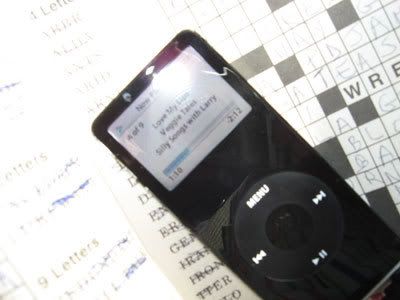 Lots of great music.
Fun car games (i.e. How many songs can you think of with the word LOVE in the title?)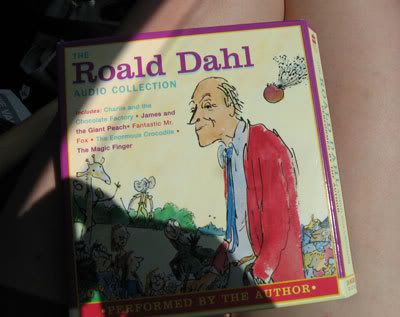 And, of course, Roald Dahl himself reading us the Charlie and the Chocolate Factory story.

We left at 4:45 a.m., assuming Sweetie would sleep for at least a couple more hours in the car (she didn't, save for maybe 20 minutes around 9 a.m.), and arrived at our hotel a few minutes before 2 p.m.
Our hotel was great! We stayed at
The Hershey Lodge
, which is extremely kid friendly, with very helpful and courteous staff, great perks (like free shuttle service to and from the park, and Hershey characters roaming the lobby), and lots of tasty on-site dining options. All well worth the price of admission.
Then - on to 2 full days worth of
Hershey Park
fun!
The first thing we had to do was size up Sweetie.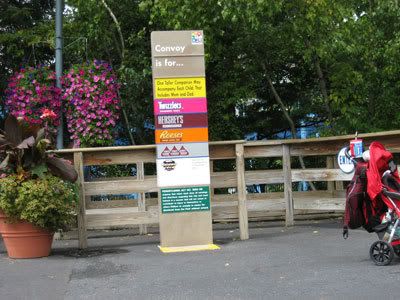 Sweetie, it turns out, is a Reese's Peanut Butter Cup. And she was given a mini peanut butter cup by the nice lady who helped measure her. Unfortunately, Sweetie mistakenly thought this was her ticket onto all the rides and not something to eat. However, given the 90+ degree heat, her "ticket" melted into gooey goodness before she was done with the first ride.
This is Sweetie and Daddy (well, at least you can see Daddy) on that first ride: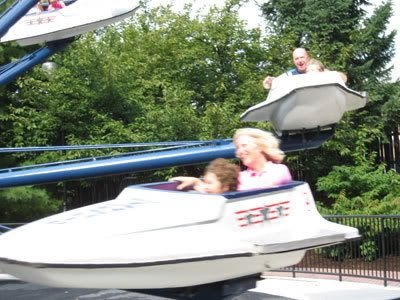 She liked it well enough, but it was a bit too fast for her.
This was Sweetie's second ride: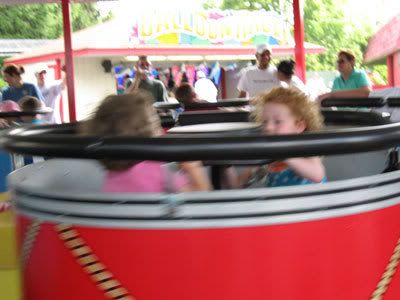 She was very insistent that she go on this one. But in the end, she didn't like it so much. The poor little girl she was with, as far as I could tell, wanted the drum they were in to twirl around (which is done by turning the wheel in the middle) as it orbited around the larger circle. But, as Sweetie put herself in charge of manning said wheel, there was none of that extra twirling going on for them. This ride helped solidify Sweetie's preference for rides that went
around and round in slow motion, not fast motion
(not that such a ride actually existed, but whatever....)
Actually, Sweetie did say that this ride was just right - not to fast and not too slow.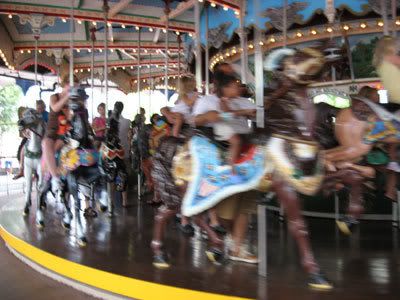 But ask Hubby (who was standing at Sweetie's side the whole time) what he thinks of that statement, and he'd say she's a dang liar. It was fast! In fact, can you even see Sweetie in this picture? She's there alright. But, I tell ya, it was pretty difficult to snap the picture in time.
Now, this ride was just about as much as I personally could handle:
It was the only ride that just she and I went on together. Thankfully, Sweetie's old enough - and tall enough - that she was able to go on most rides for her size all by herself.
After a morning at the rides, we took a break and went on the tour at
Chocolate World
.
That was pretty fun
and
interesting. A nice, chocolate-scented/air conditioned respite from the outside world. It was also the place where Kisses the Hershey Kiss came into Sweetie's life.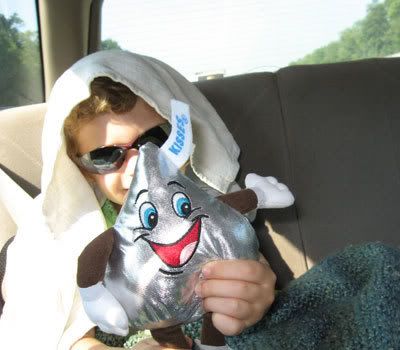 How she loves her new friend!
All too soon, we were back to the park and Sweetie was, quite literally, on the road again: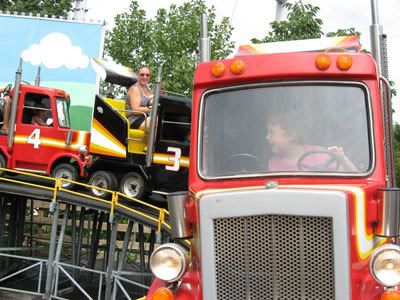 And then she was flying high: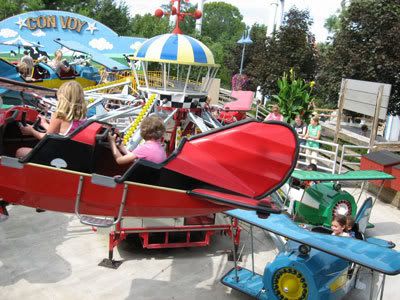 After that, which included a quick trip over the bridge to
Zoo America
, we wrapped up our first day at the park. But not before stopping to listen to the traveling band (and juggler) - The Candy Wrappers - before heading back to the hotel for the night.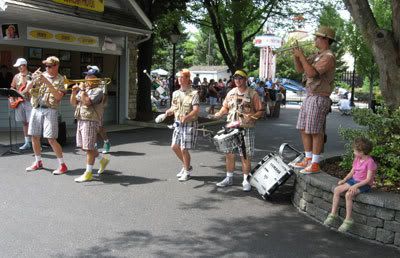 Our second - and last - day at the park was spent mostly at
The Boardwalk
(a.k.a. - the water park) portion of
Hershey Park
. And because of this, I left the camera in the hotel room. Didn't want to damage or lose it, you know. Too bad, though, because the water structures and water slides were quite a sight to behold. It would have been impressive to get some good shots of it.
Sweetie and Hubby waited in line for probably more than 1 hour (while I waited for them at the bottom) for what amounted to about 30 seconds worth of fast-paced fun on one of the water slides. When I asked her if she liked it, Sweetie said,
Well, it felt like I was scared. But I was really great!
And that about wraps it up. It was a sometimes scary, lots of times exciting, mostly really great, fun, family trip. We came away from it with a little sun burn, a few souvenirs, a very high opinion of the Hershey company, and lots of great memories.
Hope you enjoyed it too. :)