Theme: Principle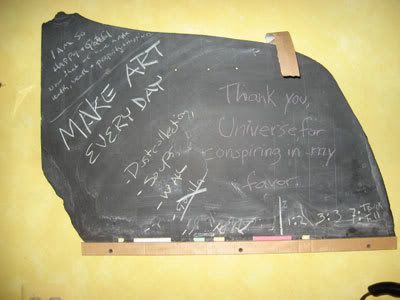 This slate slab hangs in our kitchen. It's often filled with the week's shopping list/dinner menu. Or To Do lists. And the bags per month of book and clothing donations we make each year. Those bits of information change from time to time, as you'd expect. But other things about the board always remain. Our family principles.
A thank you to the universe for conspiring in our favor. A reminder to make art every day. And an affirmation in the upper left corner that acknowledges the wonderful things we have - or expect to have - within our family and individual lives: a wealth of health, happiness and love, to name a few.
Yesterday we went to church - something Hubby and I have never really done much of together, and certainly haven't done any of since shortly after Sweetie's birth. Not that we don't have any spiritual beliefs. More like we don't feel that we necessarily have to attend formal gatherings and abide by a set standard of principles and beliefs in order to believe. Moreover, Hubby and I don't have to agree with each other on every aspect of certain religious/spiritual principles.
That's why when we had Sweetie baptized, we both felt it was important to leave Sweetie's options open for herself to learn about and grow from. The
Unitarian Universalist
church seemed like just the right place for a young person - or anyone - to attend, offering the freedom to explore one's own personal beliefs, starting out on one's own personal journey.
Now that Sweetie is school aged, we really thought it was a great time to give her the spiritual exposure necessary to help her explore her inner beliefs. 
Sweetie loved the Kindergarten circle time she and her peers shared during mass. And Hubby and I were interested to learn more about the century's old beginnings of the UU church, the basic beliefs they do hold close, and the open, humanitarian way in which the sermons are presented.
I'm thrilled to begin our family's journey with this wonderful congregation of people. And I'm excited to see how our involved in the church will help develop Sweetie into an even kinder, more caring human being.
Our own family principles mix very well with the UU doctrine. I know we all will grow and learn from our regular attendance as well as consistent supports and reminders on how we all can lead a personal life of greatness while helping our neighbors and the world to reach their full potentials as well.