Santa brought Hubby and I a new coffee maker - that doesn't keep the coffee hot for very long (which is why we wanted a new coffee maker in the first place).

I got 2 pairs of too big PJ's (seriously - I feel invisible. XS isn't small enough for me. I need Petite XS. And even that may be too big).


Hubby had to give me a couple pictures of things that have not yet arrived in the mail. They're awesome - I just don't have them yet.
I didn't really get anything to "play" with (
Hubby - you want to play with
my
plaque
with me?

), and the one really fun game I got requires at least 4 players.
Not that I wanted them as gifts, but I still need socks and dish towels. And a vacuum.

Santa brought Sweetie some new underwear - which is at least 1 size too big. And she
needs
new undies.
Sweetie is happy with (although seemingly not over-the-moon thrilled about) her 78 Scooter
(I guess Santa only could bring me a 78 Scooter instead of a 78 Toy
).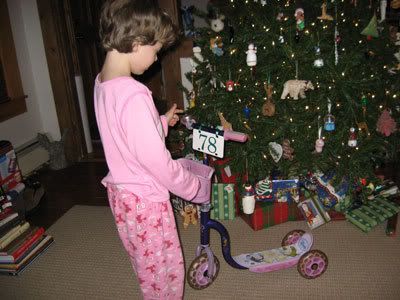 Hubby and I are sorry we showed Sweetie how to ding the bell on said 78 Scooter.
Between her birthday and Christmas, Sweetie got a
TON
of crafty things - needlework, quilt making, sticker making, paper dolls, a pot holder loom, etc., etc., etc.... which means a
TON
of work and frustrating hours of teaching and patience from me.
We got Sweetie some games and craft books we thought she'd be challenged by but also absolutely
love
. As it turns out, she's either too frustrated by or plain not interested in them.
Similarly, some of these toys/games/activities are stressing Hubby because the item(s) is a piece of junk and doesn't go together well, or stressing me because Sweetie's
NOT DOING IT RIGHT
and wasting the materials (
Ugh!
Like daughter/like mother).
Sweetie's slippers, while at least a full size larger than her shoe size, are still too small for her (i.e. - they're just perfect for now, meaning she'll very quickly grow out of them) and have to be shipped back and replaced - with a size that is currently out of stock.
There's always that Post-Christmas let down once all the partying/gift opening/celebrating is done.


Other than all that - Christmas was as lovely and fun and family-filled as ever. A real joy.

Honestly.
:)
----------------------------------
Edited to Add:
To everyone who's reading this as a purely cynical/negative post - please don't. Yes, I'm complaining a bit - about things we brought on ourselves!
We bought ourselves a not-great coffee maker. I bought Sweetie too big underwear. I also bought her the too small slippers. I'm much more upset about my body in general not being able to find properly fitting clothes than the actual clothes; I didn't ask for anything terribly exciting to begin with, so of course I didn't get anything to "play" with - I'm an adult! I'm excitedly waiting for my last two gifts to show up - I know what they're going to be and I'm really going to like them. Sweetie can't stop riding her scooter - she really does like it! (she just told me it's "very great!") And we
asked
for Sweetie to get crafty stuff - so we're
thrilled
she has it! Either she's able to do them now or she'll acquire the skills and/or interest soon enough. Sure it's a lot for me to look after and supervise and help her with - but it will be fun. I like to do crafty things too.
So don't anyone worry about us. We really had a wonderful Christmas and are happily enjoying our holiday vacation time with each other and our extended friends and family.