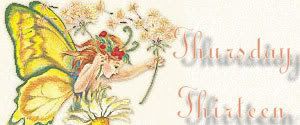 13 Pleasantly Surprising Things About This Past Week
1) Finally getting the hair products I ordered over 2 weeks ago
2) Receiving a considerable amount of unexpected money
3) My
ClubMom
Reward Points earning me a $25 gift certificate to
Barnes & Noble
4) My thoughtful brother emailing me a funny comic to brighten my day
5) My
cousin
in Thailand (
Hi, Rhianna and Tim!
) leaving me a very nice comment on my last post
6) Knock on wood (it's still pending), but I'm finally getting our money back from a local restaurant
7) A welcome back sign & small gift from my co-workers on my 1st day back to work this week.
8) It's been at least 3 weeks since I've engaged in my bad habit. (Scientists say it takes 21 days to break a habit. I'm in the clear, Baby!)
9) Both my
cousin
and my mother-in-law
may
join the book club I'm in. I hope they do. What a great way to see them more and spend quality time together!
10) Sweetie falling asleep on my lap tonight, but refusing to go to bed any earlier than usual
11) Discovering that the stress incontinence portion of surgery was completely successful – 'nuff said
12) Sweetie doing well during naptime on her first day back at pre-school
13) Sweetie volunteering the information that
I wasn't very good today
during naptime on her second day back.
I talked too much - LOUD!
, she told me.
Oh well. At least she's honest.